To be well-groomed is to be well-educated. You need to know about your skin and hair. Then you need to know which products will suit you best. And then still, you need to know how to use that product. Perhaps you've got your cologne game on lock but you're slacking when it comes to your hair. To help you see where you could be going wrong, we asked a team of experts, from grooming brand founders to the pros getting Hollywood's leading men camera ready, for their pet peeves. Listen to what they have to say to start looking better immediately.
Jason
Schneidman
"What I probably see most with new clients is the application of hair product. Or maybe using the wrong type of product in their hair. So, right off, I like to show them how to use and the difference it makes in the look of their hair. For example, a lot of guys use something like a paste, clay or wax, and put it on wet hair. That's a mistake. When the hair is still wet, the product clumps together and I call it the porcupine look—where you can see the scalp—it's not flattering. You want to apply the product when your hair is almost completely dry. Which leads to a follow-up mistake I see a lot too. I'd say 85% of my clients start out by applying the product to the front of their hair. That distributes too much to the front and not enough to the back, so the back ends up looking fluffy and messy. You want to warm up the product in your hands and work it from back to front so you evenly distribute the product."
David
Yi
Founder of
Very Good Light
"The biggest mistake men make is not using a toner. Now, I'm not talking about the astringent you used in high school or college filled with alcohol for your blemishes and acne. I'm talking about hydrating toners that balance out your skin after washing it. You see, after you wash your face with a normal cleanser mixed with water, your face becomes alkalized. Your skins normal (aka happy place) is slightly acidic (around 4.5 – 5.5 pH). Acidity allows your skin to ward off bad bacteria that may want to fester into your pores.
He Recommends
Supple Preparation Facial Toner,
$22 by Klairs
'A toner balances your face out so that it's slightly acidic again and then allows your face to be prepared for moisturizer. Your skin is already so hardened by water that applying a moisturizer after won't really work. It's only after softening it with a toner that your skin will slurp up the goodness of a moisturizer."
He Recommends
Supple Preparation Facial Toner,
$22 by Klairs
Diana
Schmidtke
"Honestly, I'm always surprised at the number of men who have never had a facial. Monthly facials, including a deep cleaning and a large dose of moisturizer and serums, keeps your skin looking healthy. Today, there are many options for facials specific to men. Spas also often offer an "express men's facial" which takes around 30 minutes to achieve healthy, clean, moist skin.
'But the number one mistake men make is not wearing sunscreen daily. SPF 30 moisturizer or sunscreen is mandatory. Not only does it protect you from skin cancer, but wearing sunscreen daily is the best way to keep your skin looking beautiful."
Madison and
Matt Ruggieri
Founders of
The Motley
Not Moisturizing
Oily Skin
"A lot of guys think that if they have oily skin, that they don't need a moisturizer, but a moisturizer will actually help balance the skin and reduce excess oil production by providing your skin with all the hydration and nutrients it needs." – Madison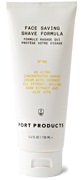 They Recommend
Face Shaving Shave Formula,
$19 by Port Products
"There's an idea that more lather is better when it comes to shave cream, but while it's fun to get all foamy, that foam is really just air and air creates friction. For a super smooth, comfortable shave glide, we recommend a creamier lotion consistency. It also allows you to see where you're shaving, reducing the risk of nicks." – Matt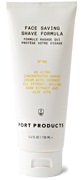 They Recommend
Face Shaving Shave Formula,
$19 by Port Products
Mike
Gilman
Founder of
The Grooming Lounge
"One of my all-time pet peeves would be neck beards. It's not a handsome look when guys have a ton of hair below their neckline in the back or below their beard line (whether they have a beard or not) in the front. Such hirsute challenges can easily be managed with a solid at-home clipper set or by more regular visits to the barber (perhaps the Grooming Lounge if they live in the Washington, DC area) to keep things neat and clean."
Madeline
Korosec
Birchbox
Grooming Merchant
She Recommends
Deep Dive
Glycolic Facial Cleanser,
$20 by Jack Black
"Going to bed without washing your face is a mistake. We've all done the occasional face plant on the couch after an exceptionally long day. Now it won't kill you to occasionally opt out of your evening grooming routine, but neglecting to wash your face before bed does allow for the buildup of oil, bacteria and dead skin—all of which contribute to clogged pores, breakouts and dull skin. (You might want to wash your pillows, too.) However, if you do have a solid bedtime regimen like applying a night cream, then washing your face first will aid in the moisturizer's absorption and efficacy."
She Recommends
Deep Dive
Glycolic Facial Cleanser,
$20 by Jack Black